The Baltic Fracture Competence Centre BFCC is online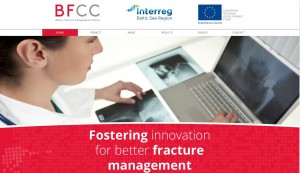 Fostering innovation for better fracture management is the overall objective of the Baltic Fracture Competence Centre BFCC. The web presence of the BFCC www.bfcc-project.eu offers a platform for the fracture community in the Baltic Sea Region to receive information about the project in general, about expertise and competences in the region as well as needs and potentials for future fracture management identified by the project partners.
With the help of the so-called BFCC Innovation Library for Fracture Management the BFCC increases knowledge among the fracture community about outcome of treatment procedures and potential for novel, innovative treatments. Hospitals, clinicians and health professionals will be enabled to learn from each other. The BFCC Innovation Library provides the industry with novel starting point for innovations and discloses trends and markets of future products, technologies and services by point out clinical needs and open medical questions.
The BFCC will get in touch with all kind of stakeholders from BSR fracture community to define requirements relative to the development of the transnational fracture register, information needed by the so-called knowledge platform and with future in mind a market demand-driven product and service portfolio of the BFCC.
If you are interested to get in touch with the BFCC, please contact:
Imke Schneemann                                                                                                               Anna-Winona Struck
                                                                                 
+49 431 9089 6858                                                                                                             +49 431 9088 5828